Why Statins Don't Stop Heart Attacks
Sent by JUDY CHO | May 28, 2022
Just to be clear, last week's newsletter on why we should stop mowing our lawn was a parody.
If you didn't read through the full Study of the Week section, I was sharing the same tactics that the plant-based narrative uses to stop meat consumption. I hope that people could pause and consider the antics of the plant-based narrative, as all jokes aside, the plant-based narrative is detrimental to human health.
I can promise you that I will never get too woo-woo. My data-driven, pragmatic husband will always be a good sounding board.

As you're aware, inflation is here. Every single lab and supplement company has raised prices on us in the last year. Microbiome Labs is doing a company-wide price increase on June 1, 2022.
We will honor the current prices on our NwJ store until June 1, 2022 If you need any of these gut supports, I recommend getting them before the 1st.
You can find all Microbiome Lab products, here.
We'll add an additional 5% off. Use coupon code INFLATION at checkout. The offer expires 5/31 at 11:59PM CST.
STUDY OF THE WEEK — Why Statins are NOT Ideal
Statins are a billion-dollar industry. If you're LDL is higher than 99 mg/dL, your standard care doctor will likely recommend a statin.
Statins are taken by over 35 million Americans daily.
A 2020 systematic review of 35 randomized control trials of cholesterol (LDL)-lowering treatments failed to demonstrate a consistent benefit. The study by Dr. Robert Dubroff, et. al., shares how estimating cardiovascular risk with cholesterol markers, missed many high-risk patients and also required "unnecessary treatment of low-risk individuals."
The 2020 British Medical Journal, found that 75% of the 35 trials reported no reduction in mortality among the participants that took the cholesterol-lowering drugs.
Dr. David Diamond has shared many talks where pharmaceutical companies have manipulated numbers to show the efficacy of cholesterol-lowering medications. Their advertisement shared that statins decreased heart attack rates by 36%.
(Note the very fine print: the difference of the Lipitor group vs. the sugar pill group was 1%.)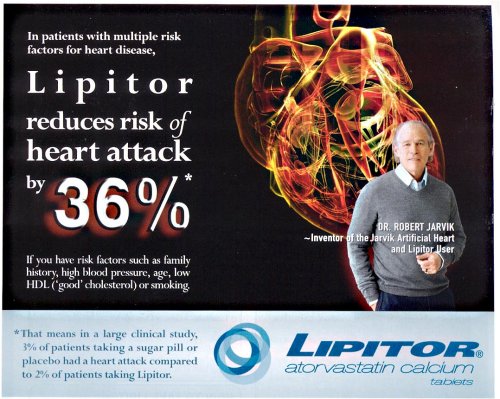 This percentage came from a study that showed relative risk reduction.
When comparing groups, the absolute risk is the difference between two risks, while the relative risk is the percentage of change between two risks.
Absolute risk shares how much benefit a person may have from a treatment (statins). Relative risk helps us see the disparities between the two different groups. Relative risk reductions are used to exaggerate the treatment benefits.
Here's a fictional example:
Say there was a study with 1,000,000 participants trying to see if flu shots have benefits. Of the 1M people, 60 participants ended up getting the flu.
50 people ended up getting the flu without any flu shot
10 people ended up getting the flu with the flu shot
What's the absolute risk reduction?
The risk of having the flu without the flu shot is 50 divided by 500,000 = 0.0001.
The risk of having the flu with the flu shot is 10 divided by 50,000 = 0.00002.
The absolute risk reduction is 0.00008 or 0.008%.
What's the relative risk reduction?
10 people / 50 people = 0.2 or 80% relative risk reduction.
—
Back to the Lipitor ad, 36% is the relative risk reduction.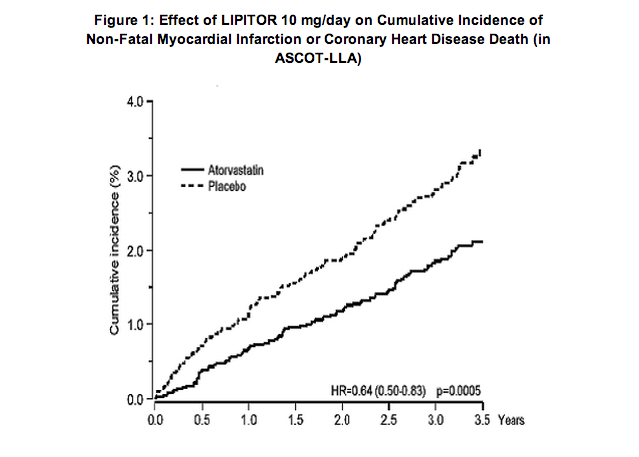 The study shared the graph above. The vertical axis shares the absolute percentage difference is a drop from 3.0% to 1.9%.
The absolute reduction of using Lipitor for cardiovascular risk is 1.2%.
You can read more about statin exaggerations, here.
Okay, just to summarize:
Statins don't really reduce cardiovascular events. 1 out of 100 people with cardiovascular risks will benefit from statins (the aforementioned 1.2%).

The pharmaceutical companies use relative risk over absolute risk reduction to exaggerate benefits. After all, 36% looks far better than 1.2% on an advertisement for Lipitor.
The real problem with statins is all the side effects. Statins come with a long slew of medical conditions:
Muscle pain and weakness

Neuropathy (tingling of hands, feet, difficulty walking)

Dizziness

Heart failure (oh, the irony)

Cognitive impairment (especially with memory)

Depression (mood disorders and rage)

Cancer

Pancreatitis
You can read the details, here and here.
As a nutritional therapist, I don't see enough discussion on statin's consequences on nutritional deficiencies. All drugs cause stress on the liver. It requires nutrients and resources for the liver to go through the phases of detox.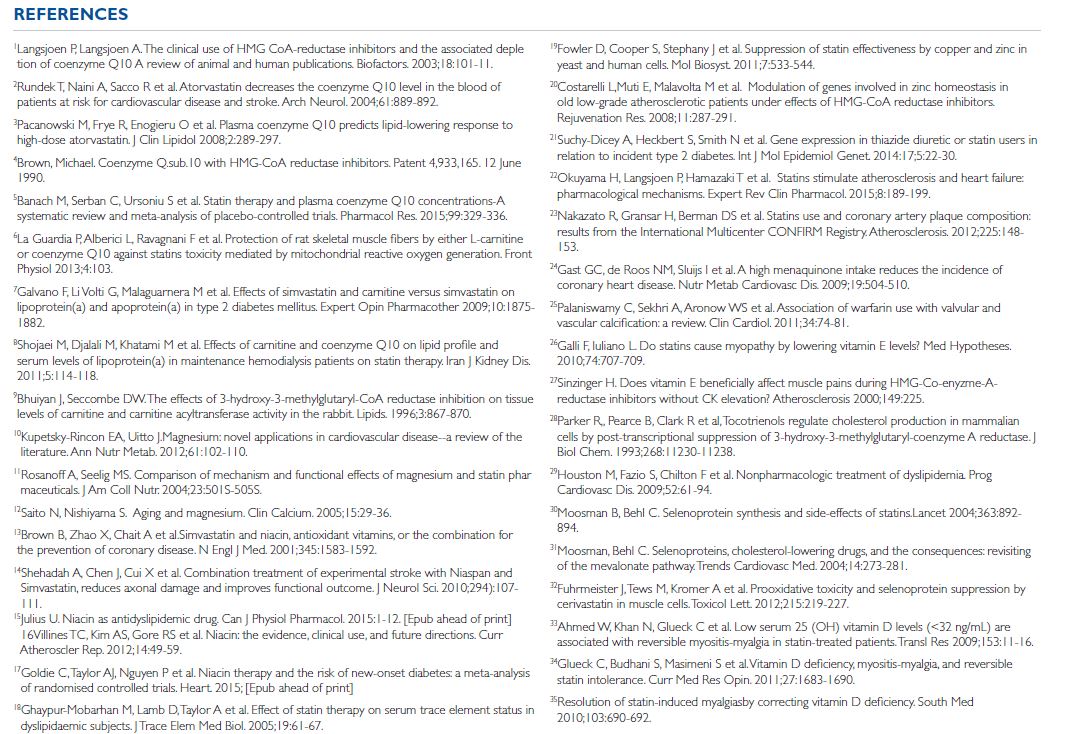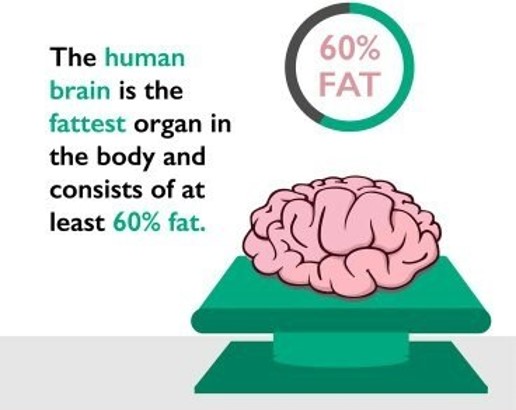 And if this statin information wasn't bad enough, they are using statins on children. Children who have developing brains — brains that are made up of 60% cholesterol.
If you want all my children's health guides, I shared them here.
SOCIAL MEDIA HIGHLIGHT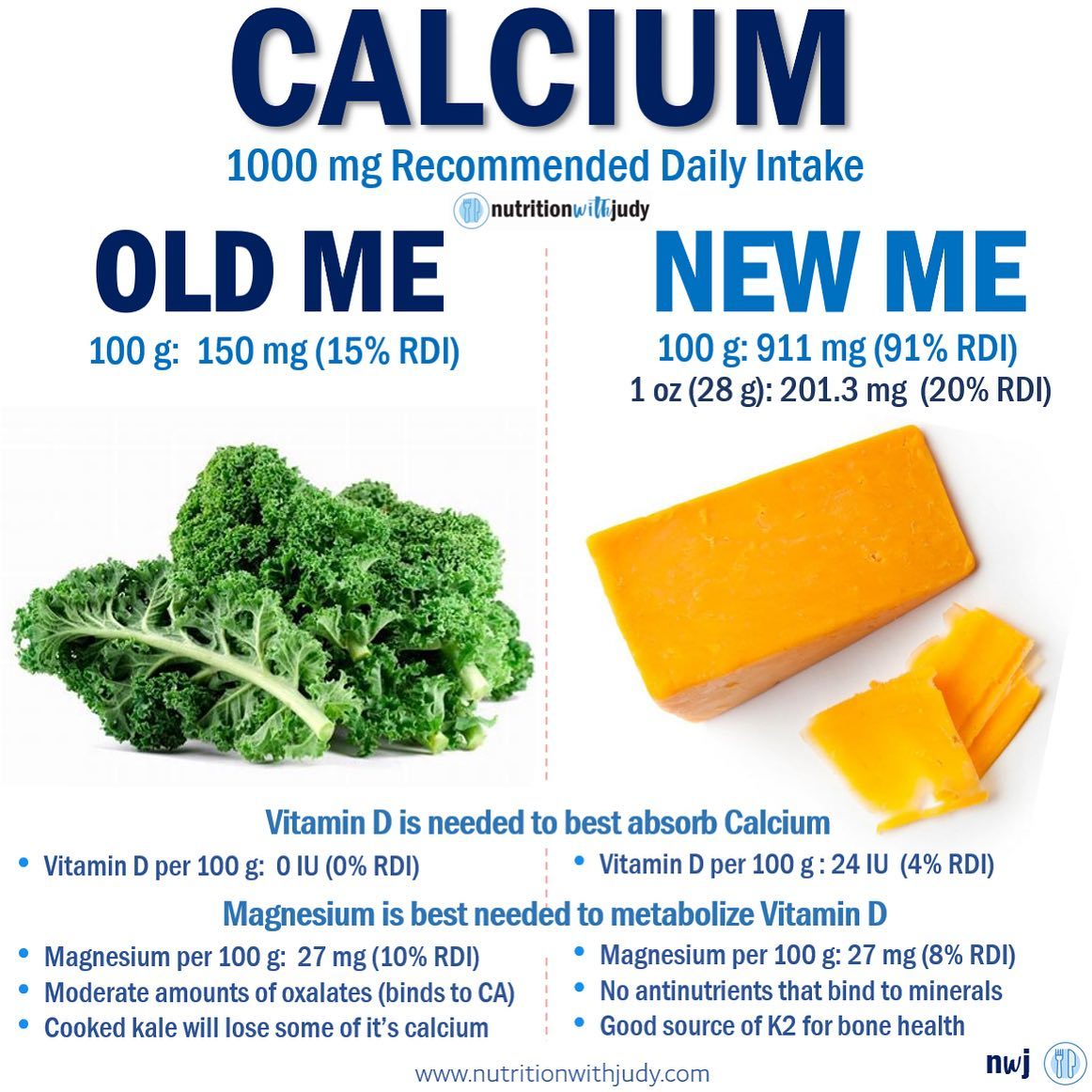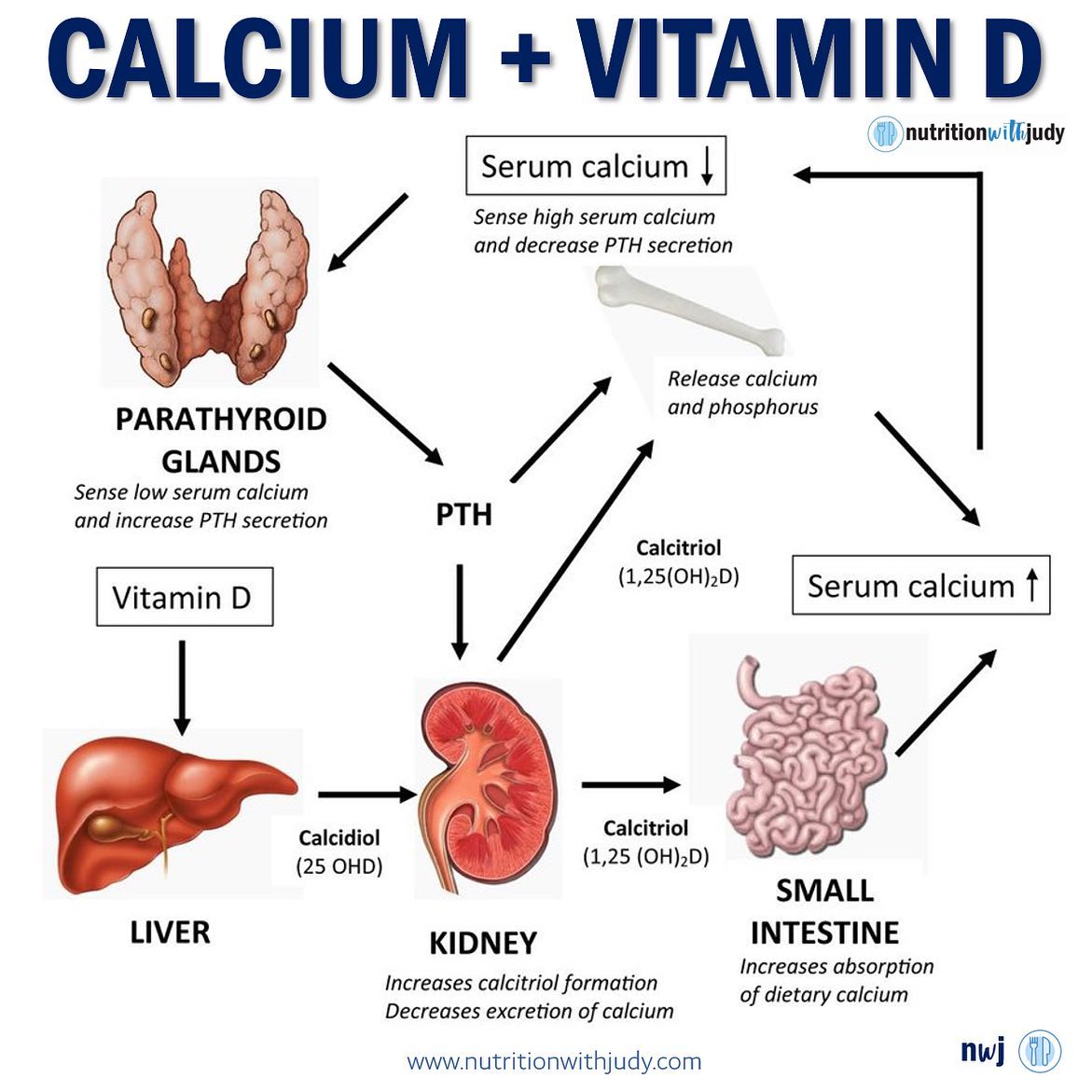 For most people, bone health issues are not because of a deficiency in calcium.
⚠️It's usually a deficiency in some cofactor.
🦴Vitamin D, magnesium and K2 all play a role in bone health and the routing and absorption of calcium.
💡Calcium needs sufficient vitamin D for proper absorption.
💡But vitamin D needs sufficient magnesium to be metabolized.
⚠️Many people take calcium for bone health (especially when struggling with osteopenia and osteoporosis) but it's not always an ideal situation.
⚖️There are studies that show a relationship between excess calcium supplementation intake and cardiovascular events.
PMID: 27729333, PMID 27355855
💔Yes, you can risk heart disease events by excess calcium supplementation.
According to PMID: 26770129:
🦴Inadequate calcium intake can lead to decreased bone mineral density, which can increase the risk of bone fractures.
💔But excess calcium supplementation may raise the risk for heart disease and can associate with accelerated deposit of calcium in blood-vessel walls and soft tissues.
🌟Vitamin K2 is associated with the INHIBITING of arterial calcification and stiffening.
🌟Sufficient vitamin K2 has been shown to lower risks of vascular damage (it activates matrix GLA protein — MGP), which inhibits calcium deposits on the walls.
⬇️Vitamin K deficiency results in insufficient MGP, which IMPAIRS the process of calcium removal and INCREASES calcification risks of the blood vessels.
⬆️An increased intake of vitamin K2 could be a means of lowering calcium-associated health risks.
⛑For BONE HEALTH: Vitamin D, Calcium, K2, and Magnesium are key.
⛑For MACRO-MINERAL (electrolyte) balance: Calcium, Magnesium, Potassium and Sodium are key.
❗️Remember, most people ARE NOT deficient in calcium but have insufficient amounts of cofactors (e.g., magnesium, vitamin D, and/or K2. Magnesium and potassium are big ones.)
💊For bone health, add K2-MK7 (Long-chain menaquinones).
❓And what has all of these without any supplementation?
🧀Cheese.
🐟Fatty fish is also a great option.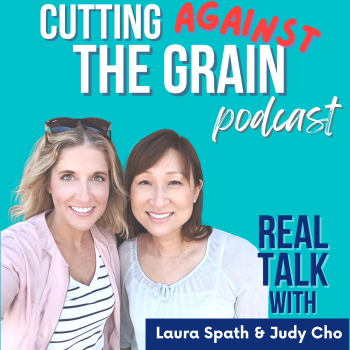 CATG PODCAST: Ep 61 Baby Formula, Pregnancy and C-Sections
In this week's Cutting Against the Grain episode, Laura and I chat about the recent formula shortage, elective sections and carnivore pregnancies.
Optimal doesn't equate to real life

The formula shortage

Breastfeeding vs. formula

The root cause issues of mothers and breastfeeding

Maternity leave — US and the rest of the world

Demanding more than status quo

History of formula regulations

Homemade formula

Pregnancy and zero carb

C-sections (voluntary)

Diet and healing
PODCAST SPONSOR: KetoCon

I'm excited to share that I'll be speaking at KetoCon Austin and also part of the brand-new Carnivore panel July 8–10th!
KetoCon is an annual event in Austin, TX. It's the largest event in the U.S. focused solely on the science and stories of living a ketogenic diet and lifestyle.
As part of the conference, there are over fifty speakers that include medical professionals, researchers, bloggers, tech gurus, and fitness experts and over 250 vendors that share products and services that help your ketogenic lifestyle.
I'm excited to share that Ketocon has given our podcast listeners a discount!
Use the discount code: CATG10 at checkout and receive a 10% discount code on the 3-Day General Admission pass.
With your 3 day pass, you will be moved with incredibly inspiring stories, new friendships and keto cooking demos. There are even learning opportunities for entrepreneurs and coaches.
It's an incredible experience you don't want to miss. I hope to see you there!
Make sure to get your discounted tickets before the sale ends! And don't forget to use code CATG10 for 10% off your tickets!
NUTRITION WITH JUDY PODCAST: Overcoming Food Addiction to Lose Weight | Bright Line Eating — Dr. Susan Peirce Thompson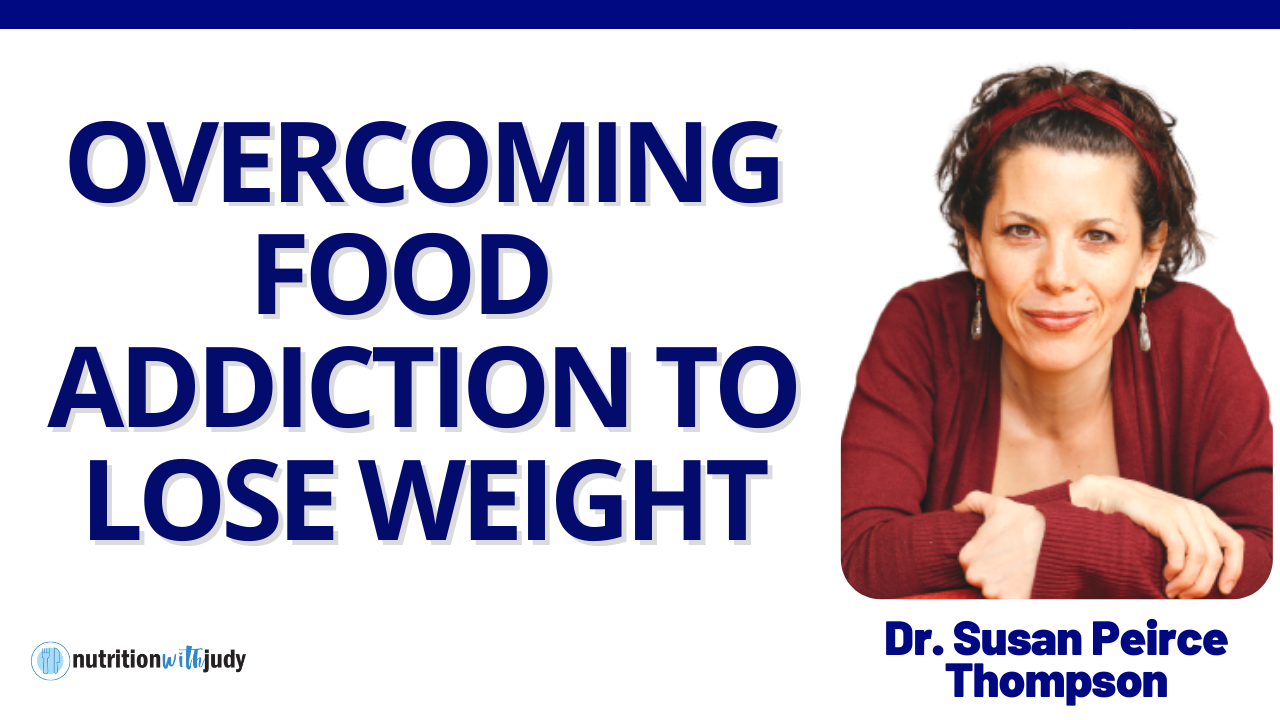 I'm excited to sit down with Dr. Susan Peirce Thompson. We talk about how food addiction is one of the hardest addictions to overcome.
We discuss the following:
About Dr. Susan and the psychology of eating

Food addiction

How to start healing

About Bright Line Eating

Thoughts on macros

How to start eating clean

Thoughts on coffee

Food addiction susceptibility

Reframing concept

Tips to get started

Bright Line Eating membership
Food addiction, disordered eating and eating disorders are very real.
🙋🏻‍♀️I lived it for over 15 years.
⚖️It doesn't help that our society advocates for moderation with food.
✅You can say no to alcohol and drugs.
People are supportive.
✅You can say no to spending or going out.
People are supportive.
🚫But when you say no to hyper-palatable processed foods, people are not supportive.
⚠️The problem is that everyone is susceptible to issues with hyper-palatable foods.
Frankly, they shouldn't be considered food.
🍩So these foods, with the lab-created perfect balance of sugar, fat, and salt, make our brain's reward centers craving for more.
We turn to food:
🔻For comfort.
🔻For an escape.
🔻To numb.
🔻To celebrate.
🔻To relieve stress.
🔻For control (and lack of).
🥀The problem is that these foods that once provided us some emotional support, now become a drug that consumes our life.
💔We think about our next fix.
💔We belittle and shame ourselves when we can't stop.
💔We have brain fog and inflammation.
💔We start having blood sugar issues, and insulin resistance.
💔We become emotionally unstable.
Many people believe that food addiction is not a serious illness. Especially compared to hard drugs and alcohol.
💡The healing process for any addiction is abstinence.
❓How do you abstain from food?
You can't.
🥩But if you eat meat-only carnivore, you can heal your body and mind from hyper-palatable processed junk. Take baby steps, but you can then start working on why you turned to food in the first place.
⛑The process to remove all processed carbs isn't easy. But it sure is rewarding when you get your life back.
NwJ NEW ARTICLE: The Benefits of Animal Skincare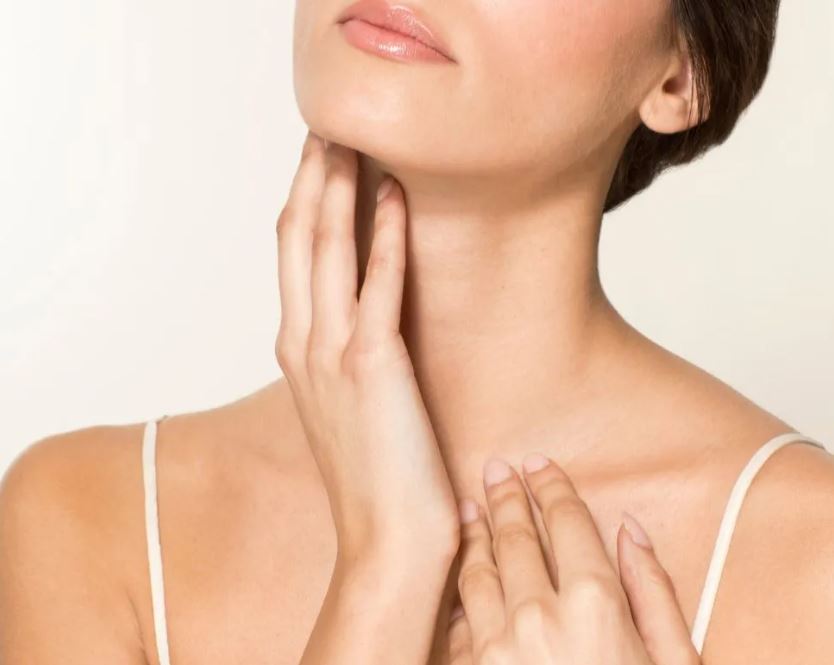 This article shares personal care recipes and the benefits of using animal-based skincare.
NwJ INSIDER TIPS
Several people wonder why I share content from advocates outside of the carnivore community.
Simply put, I refuse to live in an echo chamber.
There is always information we can glean from other communities. I loved Dr. Thompson's personal share on how it can be more difficult to stop food addiction than drugs and alcohol.
We also learned a lot about the psychology of eating and addictions. The message isn't just about joining her community or eating the way she does.
Meat-only is something I will always advocate for but we can always learn and be challenged by other ideologies. It's how we grow and evolve and ensure what we are doing and thinking still makes sense.
If you want a quick and easy, this or that diet, that's not what you'll get here. I will always search for wellness levers until all of us heal and live optimally.
I will always get into context and nuance. Because it matters.
I will never stop learning and growing physically, mentally, and spiritually. And if you feel the same, enjoy the journey as I share as open-heartedly as possible.
Have a wonderful Memorial Day weekend. Thank you to all the families that have or have laid their life down to serve our country. I'm grateful. Because of you, my boys can play freely in our streets, thank you.
Thank you for being part of this community. ♥️
Make sure to share this newsletter with your friends and loved ones as all freebies, inspirational hope, and evidence-based research is shared here first.
with ♥️ and hope for healing,

DISCLAIMER:
While I am a nutritional therapy practitioner and provide nutritional support, I am not providing medical advice. Any information provided in regards to nutritional therapy should not be considered medical advice or treatment. Always consult your primary care physician or medical team.