Vitamin A with Chris Masterjohn
Sent by JUDY CHO | June 19, 2021
This week, I made a quick trip in the morning to finally pick up our quarter grass-finished angus steer. We are so excited to have a full chest freezer full of nutrient-dense meats.
Recently, on the Cutting Against the Grain podcast, we discussed how shopping at a grocery store supports our U.S. farmers. Simply put, for every dollar you spend on grocery store meat, you support the larger supply chain of the many thousand farmers and their families across the U.S.
But that specific supply chain puts less money in the pockets of our local farmer.
The problem is that if we only bought from our local farmer, then farmers in small communities would be left with excess animals that they couldn't sell. Over time, we would have fewer farmers and ranchers.
And that would ultimately mean less supply.
And once you have less supply (with the same demand), you inevitably will see increasing meat prices.
So our family happily buys both from the grocery store and from our local farmers.
We have been going to the same raw goat's milk and egg farmer for nearly 6 years. And while he's about to retire, I'm grateful for our time and experience going monthly to the farm.
We also reserve quarter steers and this has been our best experience yet. Halo Cattle in central Texas is run by a veteran and raises grass-finished angus beef. You can contact them at halokcattle@gmail.com.
And if you think grass-finished is pricey, ours turned out to be about $5 per pound (with the processing and kill fee costs). This amount included all our coveted meats with bonus oxtail, knucklebones, and fat.
They also offered me the beef liver and kidneys but I declined. Continue reading to understand more about the risks of hypervitaminosis A.
In the evening, we also went to our local grocery store and bought spareribs on sale ($1.97/lb) and NY Strips ($5.77/lb). If you're in the Austin area, Randall's is still having the sale!
Some of you have raised concerns about glyphosate GMO and grain-fed animals. I have done extensive research in this area. Please reference chapter 5 of Carnivore Cure.
We never take our meat for granted and we support both the wider U.S. supply chain, as well as directly to our rancher. For every meat, there's a story of an animal that feeds a family.
Thank you to all the families that provide our family nutrient-dense foods.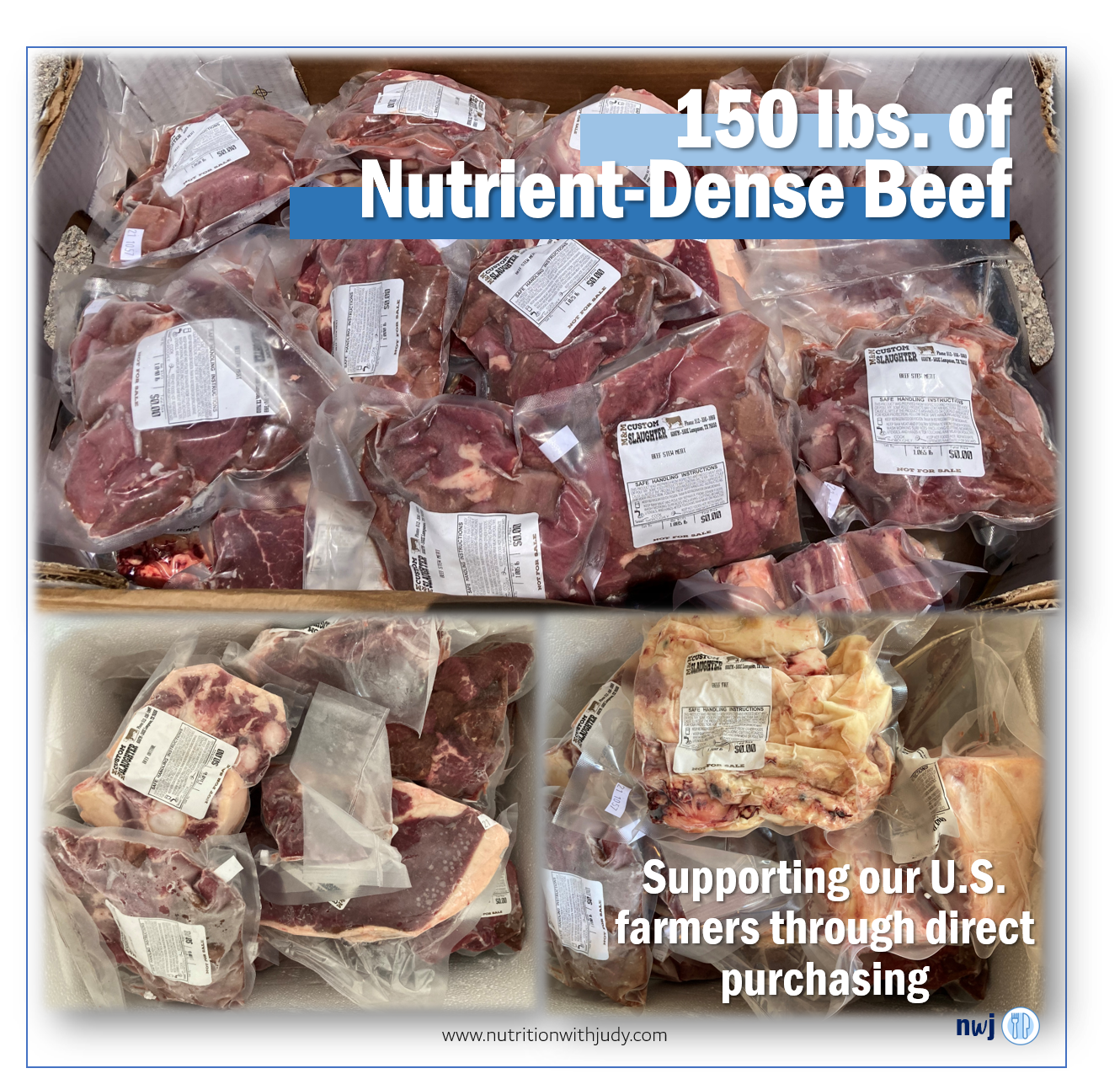 Supporting our U.S. farmers directly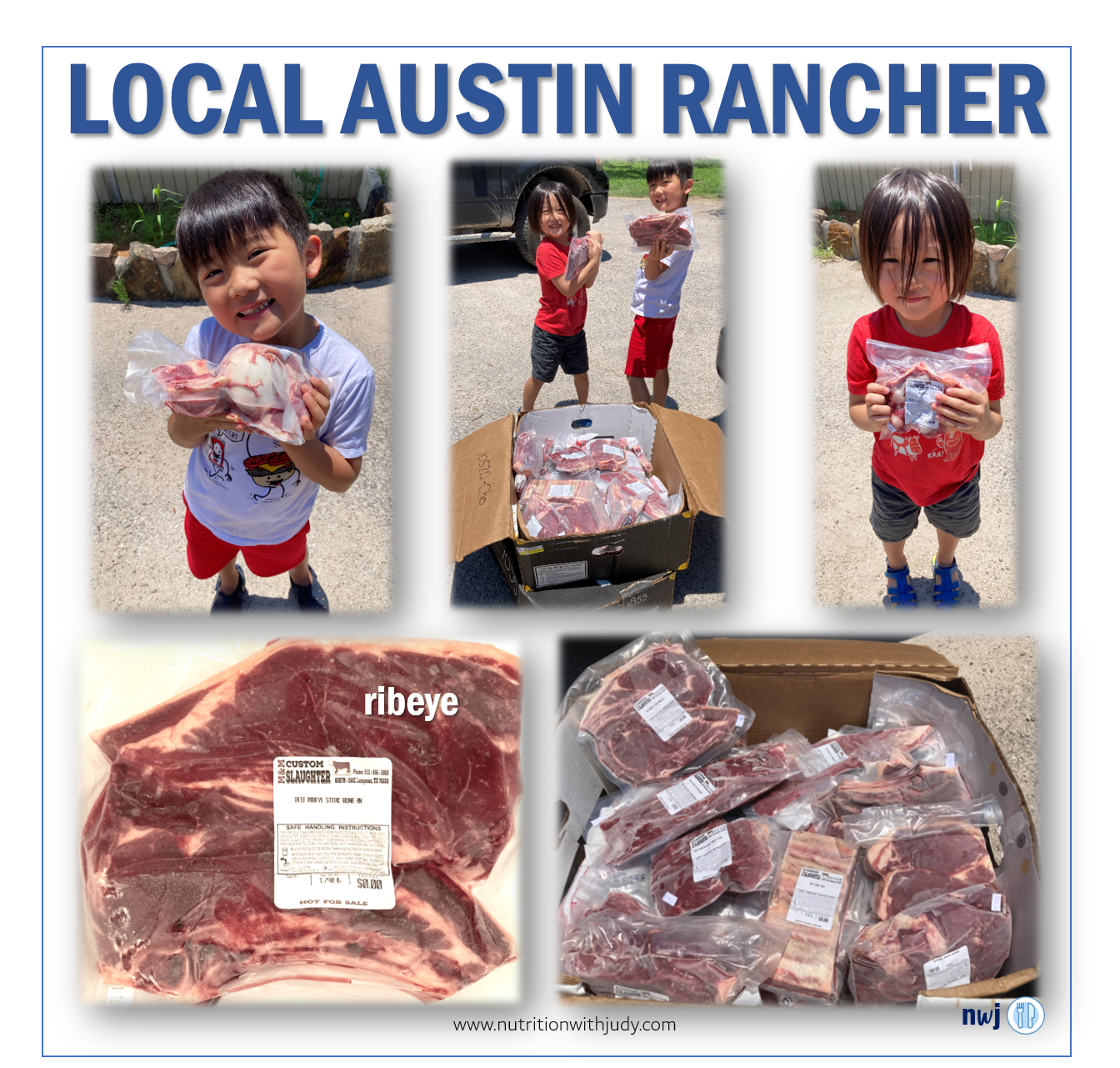 Our kids learning how to source meats from multiple places.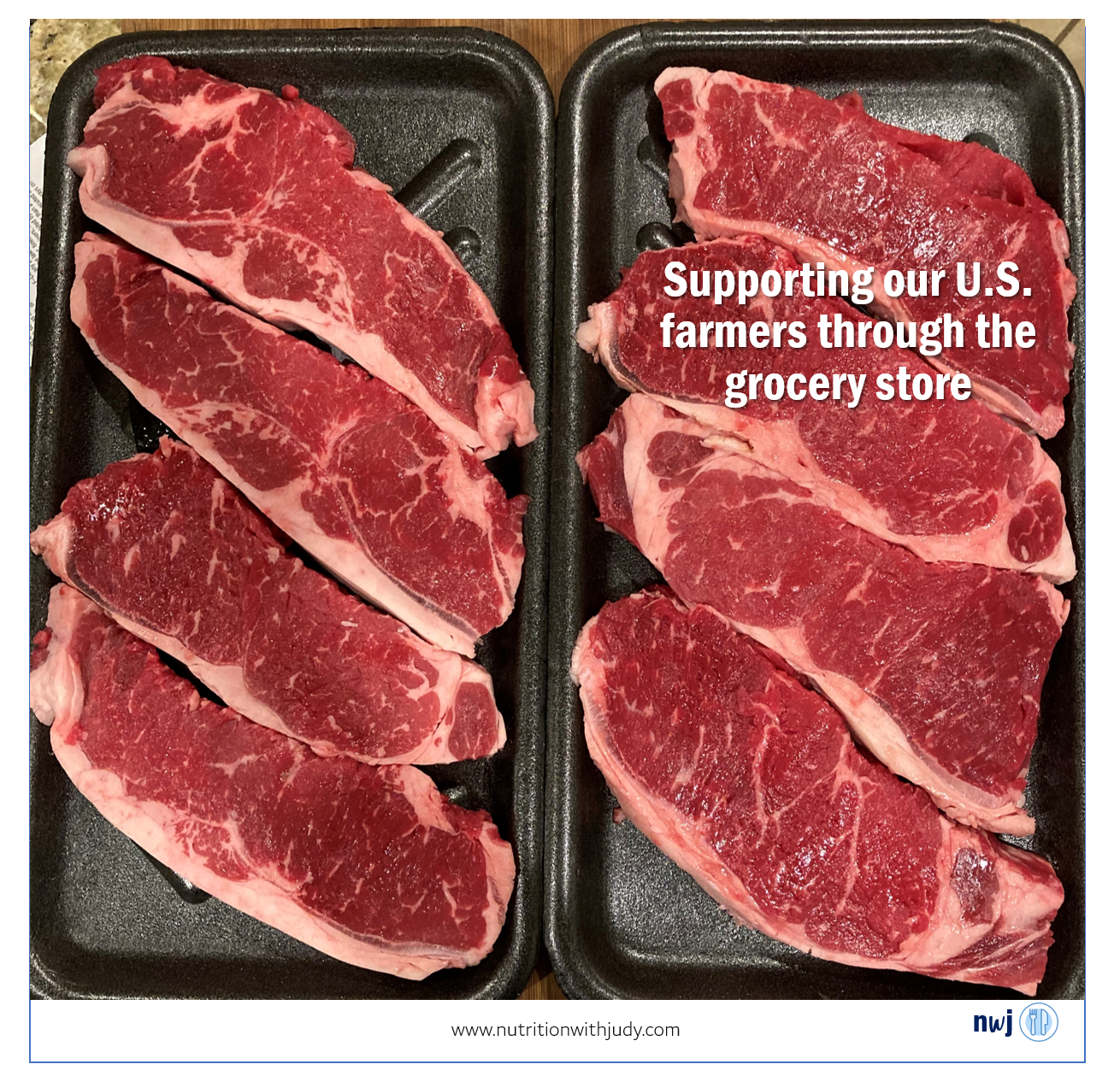 Supporting our U.S. farmers through grocery store meat
Teaching Wellness at Any Age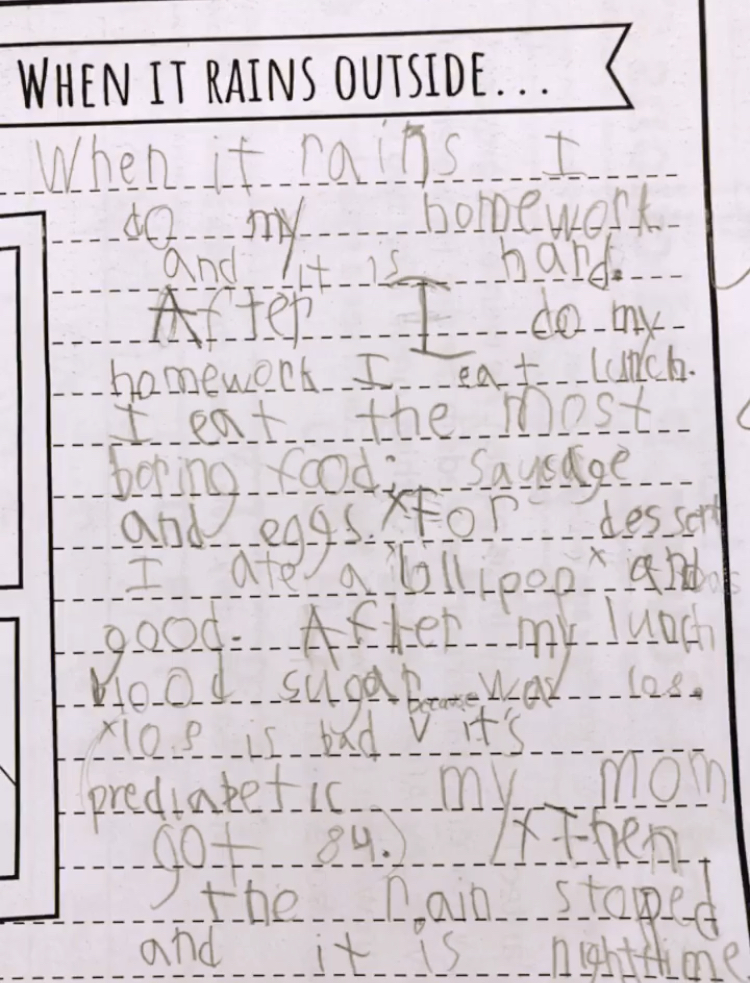 It is never too early to start teaching our children about health and wellness. We homeschool our kids and our almost 7-year-old wrote this as part of his lesson. "…After I do my homework, I eat lunch. I eat the most boring food, sausage and eggs. (at least he's honest!) For dessert, I ate a lollipop and [it was] good. After my lunch blood sugar was 108.108 is bad because it's prediabetic…"
This made me the happiest mom. He may think meat and eggs are boring but he also knows they are helping him to grow big and strong. I realize how much we do and say affects our children. I never sat him down and said "this range is diabetic and this range is pre-diabetic." But I used this opportunity to explain what the prediabetic and diabetic number ranges mean for the body.
It is never too early to teach our kids (and adults) the importance of taking control of one's own health.
CARNIVORE CURE GIVEAWAY UPDATE!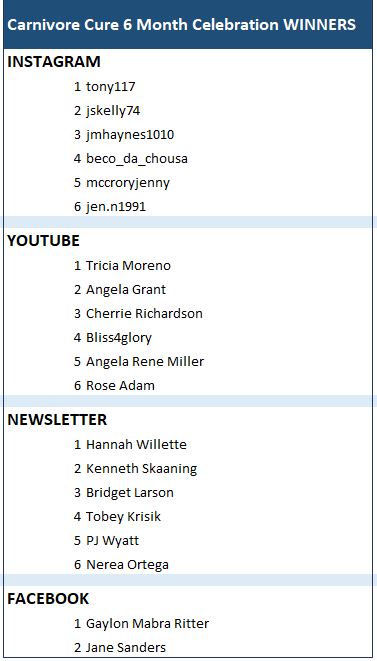 Congratulations to all the winners! We hope you enjoy the book and all the other digital goodies we sent your way! Congrats to the runner-ups! We hope you enjoy the digital resources!
NwJ and CATG Podcast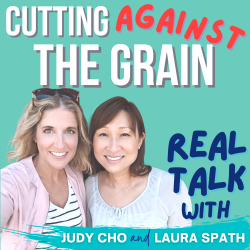 This week on the Cutting Against the Grain podcast, Laura and I talk about the new trends of Keto Lite. It's considered the number one diet trend for 2021. We talk about the different versions of keto and what did and did no work for us.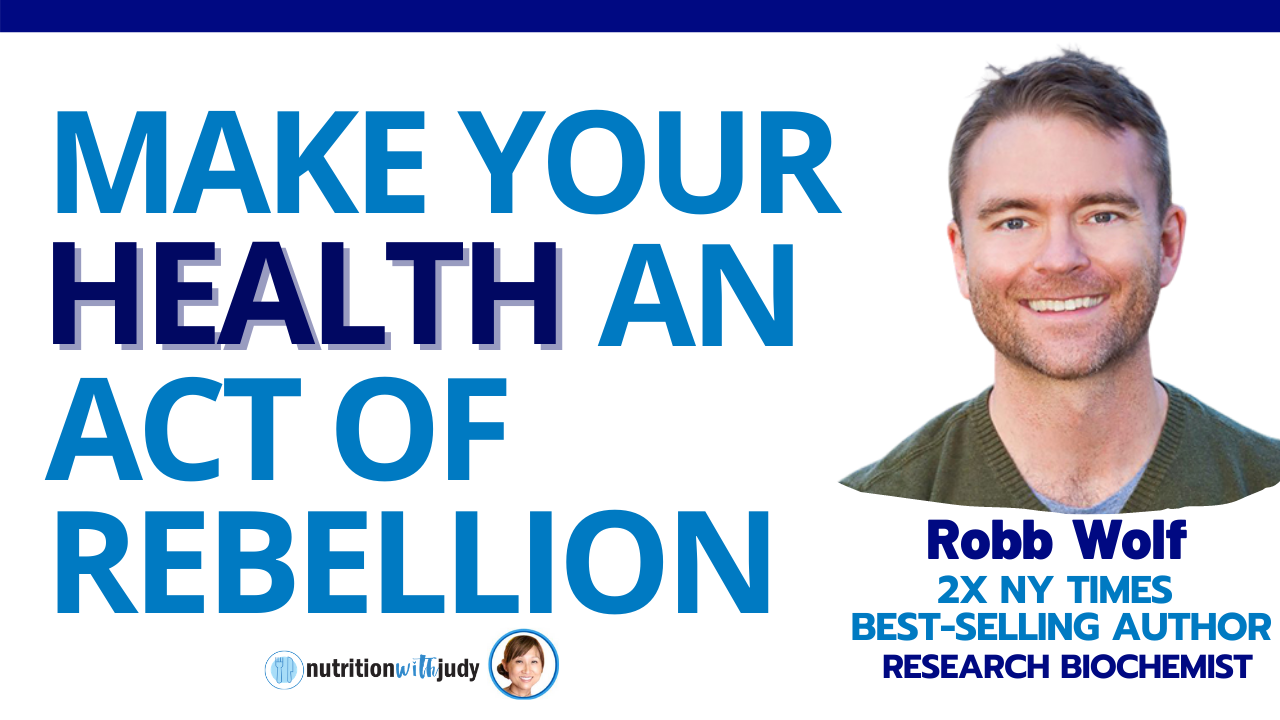 This week on the Nutrition with Judy Podcast, I had the pleasure of chatting about all things nutrition, food and censorship with Robb Wolf. If you haven't checked out the podcast you don't want to miss it. Robb is poignant with all the topics we discussed. It's easy to see why he has been a leader in the nutrition space for decades. You can watch the YouTube video here.
Chris Masterjohn's Thoughts on Vitamin A and Animal Liver
I had my very first written interview! After the many vitamin A and liver interviews, posts and content, I reached out to a few of the pro-liver consuming advocates to get their thoughts on hypervitaminosis A. I don't like naming names but they have verbally declined.
I told one doctor that when she is ready, the door is always open.
Many of you said to get in touch with Chris Masterjohn since he's an expert with all things vitamins and minerals. He has kindly responded to a written interview.
You can read the full interview and my thoughts on his response, here.
One thing he said is that it is possible to get toxicity from vitamin A with food alone. That was my whole point of bringing up this concern: it's not just the synthetic supplements.
I hope the more light is shed on this discussion, you will realize that there's a lot we are still learning with nutrition. Science always evolves, even Recommended Daily Allowances have changed over the years.
Be open. Learn. Absorb. Then decide what makes sense for you with the new information. If we don't stay open, we would never have learned the powers of a meat-based diet.
Have a good week and I'll talk to you soon!
with ♥️ and hope for healing,

DISCLAIMER:
While I am a nutritional therapy practitioner and provide nutritional support, I am not providing medical advice. Any information provided in regards to nutritional therapy should not be considered medical advice or treatment. Always consult your primary care physician or medical team.