Uric Acid: What You Need to Know (Must read, if you're meat-based!)
Sent by JUDY CHO | February 5, 2022
In Texas, we are in the thick of a winter storm. Hope you are safe and warm. We were supposed to be in Florida for training but our flight got canceled. So now we're braving the weather with our fellow Texans. (I know, I know it's not that cold compared to other areas!)
Stay safe.
STUDY OF THE WEEK — Uric Acid and Fructose
This week I started the discussion of uric acid and how it affects the meat-based community.
The conversation is very nuanced and there are several discussions coming up. Dr. David Perlmutter did a great job explaining the basics of uric acid and how it relates to gout. He also mentions low salt and added fiber which doesn't necessarily align with our carnivore community.
But that shouldn't discount the main discussion at hand. For those that consume a lot of protein (purines), fruits/honey (fructose), and alcohol, there is an increased risk of metabolic syndrome.
I tried to explain this in my solo follow-up episode.
If you're stalling on a meat-based diet and have added liver, fruits, honey and/or alcohol, you may be stalling your healing.
We must stay open to discussions from all wellness spaces. It helps us to decipher what to learn and what not to learn. We can learn from vegans how incredibly important animal fats and B12 are for health. We can learn from a fiber-friendly Dr. Perlmutter that uric acid (per studies) can be a large culprit for metabolic syndrome.
The brunt of this nuanced discussion for carnivore is going to be next week with Dr. Richard Johnson. I attempted to ask him all the nuanced questions that apply to our community but in case I missed some (and I already can think of a few), he'll be joining me again in March.
Dr. Johnson has published over 700 studies and is a kidney and infectious disease medical doctor. He also continues to see patients while spending time as a professor and father. If you can't wait, you can start digging into his research studies.
There are tests you can check to see your Uric Acid status. We talk about them in the interview.
We must always see things in context.
Before you go running to check your uric acid levels, there is nuance for our community.
If you follow a ketogenic carnivore diet with almost no fructose, liver or alcohol, your uric acid may be high and it likely is a non-issue. Amber O'Hearn wrote about this in 2019 and Dr. Johnson confirmed that ketogenic bodies may be using the higher uric acid levels to upkeep glucose levels (via gluconeogenesis).
Confused?
I'm going to make a decision tree so wait for it! But essentially:
1. Do you suffer from gout attacks? If yes or no, keep reading.
2. Is your uric acid above 5.5 mg/dL? If yes, keep reading. If no, then you can stop reading this section.
3. Do you eat liver, brewed teas, chocolate, sardines, alcohol, fruits and/or honey? If yes, keep reading. If no, check your ketones and blood sugar. If you have ketones (at least above 0.5 mmol/L), you can stop reading this section.
4. Do you consume alcohol, fruit and/or honey, almost daily? If yes, keep reading. If no, then you may either want to reduce your tea or chocolate (theobromine), sardine and organ meat amounts, or you can consider a full bloodwork panel and check copeptin. Consider what elevation of uric acid is determined safe (or the UA elevation that you're comfortable with.)
Dr. Johnson doesn't recommend anything above 8 mg/dL, whether or not you are in ketosis. Trying to drink more water throughout the day. (interview has more context)
5. If you do consume fruit, honey, and/or alcohol, with your meat-focused diet, you may be stalling your healing, even weight loss.
The higher uric acid levels may not be ideal.
The first thing I'd check is ketones. If you are barely registering any ketones while fasting, I'd get a full bloodwork panel, check copeptin and possibly get an ultrasound on your liver. I'd stop the fruits and honey, as much as possible.
Just to be clear, there's no specific amount of organ meats, alcohol and/or fruit/honey that is safe for everyone, not even children. For some, the answer may be zero.
Consider all things before determining what is and is not safe for your individual body and lifestyle.
I find it interesting that people share the safest plant foods to reintroduce. A lot of it is not evidence-based but we believe it to be true. For example, many of us believe that squashes are safe.
Why?
Where is the evidence-based research?
Squashes are moderate to high in lectins. If you have gut imbalances, you should not be consuming squashes as one of your first reintroduction foods.
Check out the NwJ Insider Tips section below for more info on purines and fructose, so you can do your own inventory of fructose and purine content.
Some people may argue that Dr. Johnon's research includes rodent studies but listen to him talk about the parafeeding study. He also mentioned studies that Dr. Robert Lustig has done on hypocaloric diets with and without fructose. The children eating fructose still showed disease within the body, even if outwardly they maintained or lost weight.
Some people argue that it's the high levels of PUFAs causing all the issues of humans metabolizing fructose.
Since there are really no studies that show an absolute reduction of PUFAs, what I can tell you is that clients that eat zero PUFAs for over a year, are not metabolically healed.
My mother, for example, is allergic to chicken (so she says) and barely eats pork. She eats almost exclusive beef with some supplementation and fish.
My mother eats almost zero PUFAs. After 3 years of being nearly strict carnivore, she still cannot have more than one fruit (otherwise, her blood sugar skyrockets). She's taken the recommended vitamin E and other mitochondrial support recommendations from the PUFA advocates.
So what's going on with her?
Theory is great until you see things differently in practice.
Her healing has been from removing all carbs and focusing on fatty meats. She is 70 years old and does not take any hormone or thyroid medications. I'd like to understand how her thyroid levels are normal when her insulin is on the lower side.
I'd also like to understand how we came to believe that squashes were one of the safest foods to reintroduce to a meat-only carnivore diet.
SOCIAL MEDIA HIGHLIGHT OF THE WEEK
As World Carnivore Month comes to an end, here are some of the healing benefits of a carnivore diet. Most people experience some of these benefits within the first 30 days.
🚥For some, they heal a bit then stall — stall with weight or the healing of a particular illness.
Give it time and consider looking deeper.
⛏If you don't think gut issues are the problem, you probably want to dig deeper.
🧰Sometimes hormone issues are a deeper root-cause issue.
These nuances get tricky. Always work with a practitioner.
🔥I want to leave my 5th celebration of world carnivore month with my client's healing story.
🙋‍♀️My client, "Jane" has tried every diet. She ended up eating meat + green smoothie daily.
Her symptoms:
▪️hypothyroid
▪️weight gain,
▪️deep depression,
▪️social isolation
got worse.
🥩She tried a meat-only elimination diet out of desperation — even though she thought she'd die of heart disease.
🦄Her first 6 months weren't rainbows and unicorns. Sure, she had some healing but not enough to enjoy life. So she started working with me.
🎢We had ups and downs with mineral balance, gut healing and other things that came up along the way.
🌈But one day, one year and two months in of eating meat-only, she woke up with zero depression.
Not only that, she woke up happy. She didn't realize that she was generally melancholy for the last 30 years.
She only knew when she was depressed and plagued with dark thoughts.
📚She searched carnivore healing stories. The longest it took a carnivore to lift depression was four months. It took her 1 year and 2 months.
🌟Every day she expects the happiness to disappear. She's now going on three months.
🙋🏻‍♀️My first carnivore year had bouts of eating disorder behaviors. I began to heal deeply, year two.
✨Our journeys differ, and our healing differs.
My client had no other diet to go back to, so she stuck to it.
🔥And sometimes, that makes all the difference.
⛑One year and two months of meat-only has cured my client's major depression of 30 years. It's possible. Meat truly heals.
CATG PODCAST: Gout, Cholesterol, Insulin, Exercise — Thoughts from the Low Carb Conference
In this week's Cutting Against the Grain episode, Laura and I talk about Carnivore bloodwork details and steps to be a self-advocate.
Bloodwork and what to check
Low carb vs. standard diet markers
Fasted glucose vs. A1C
Insulin (LP-IR)
What is C-Peptide?
Getting your doctor to order tests
Kraft test and Glucose Tolerance Test (testing while pregnant)
Serum insulin sensitivity vs. beta cell sensitivity
Statins and statistics
Cholesterol (NMR particle size)
"Normal" cholesterol markers for carnivores
Advocate for your health
If you didn't know, I offer all tests that most doctors and labs offer. I offer a comprehensive complete wellness panel that includes all the markers above, thyroid antibodies, even some sex hormone markers (e.g., SHBG, testosterone). Each test comes with detailed notes, next steps and any dietary and supplemental recommendations.
These tests now offer the option of hour consultations to go over any additional questions.
You can learn more about the updated complete wellness panel, thyroid panel and all other NwJ test offerings. There are hundreds more that we offer a la carte, not on the shop page.
PODCAST SPONSOR: KetoCon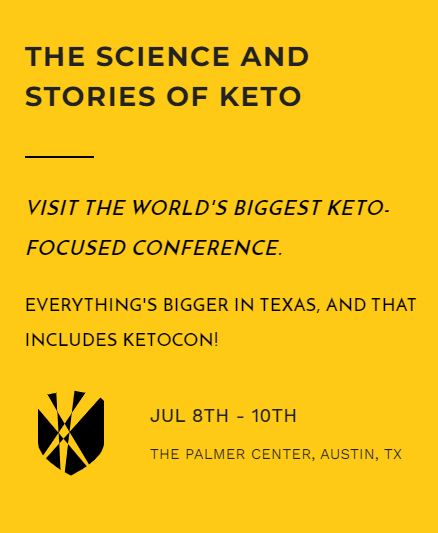 I'm excited to share that I'll be speaking at KetoCon Austin this summer, July 8–10th.
KetoCon is an annual event in Austin, TX. It's the largest event in the U.S. focused solely on the science and stories of living a ketogenic diet and lifestyle.
As part of the conference, there are over fifty speakers that include medical professionals, researchers, bloggers, tech gurus, and fitness experts and over 250 vendors that share products and services that help your ketogenic lifestyle.
I'm excited to share that Ketocon has given our podcast listeners a discount!
Use the discount code: NWJ10 at checkout and receive a 10% discount code on the 3-Day General Admission pass.
With your 3 day pass, you will be moved with incredibly inspiring stories, new friendships and keto cooking demos. There are even learning opportunities for entrepreneurs and coaches.
It's an incredible experience you don't want to miss. I hope to see you there!
Make sure to get your discounted tickets before the sale ends! And don't forget to use code NWJ10 for 10% off your tickets!
NwJ PODCAST: Surprising New Science of Uric Acid — Drop Acid by Dr. David Perlmutter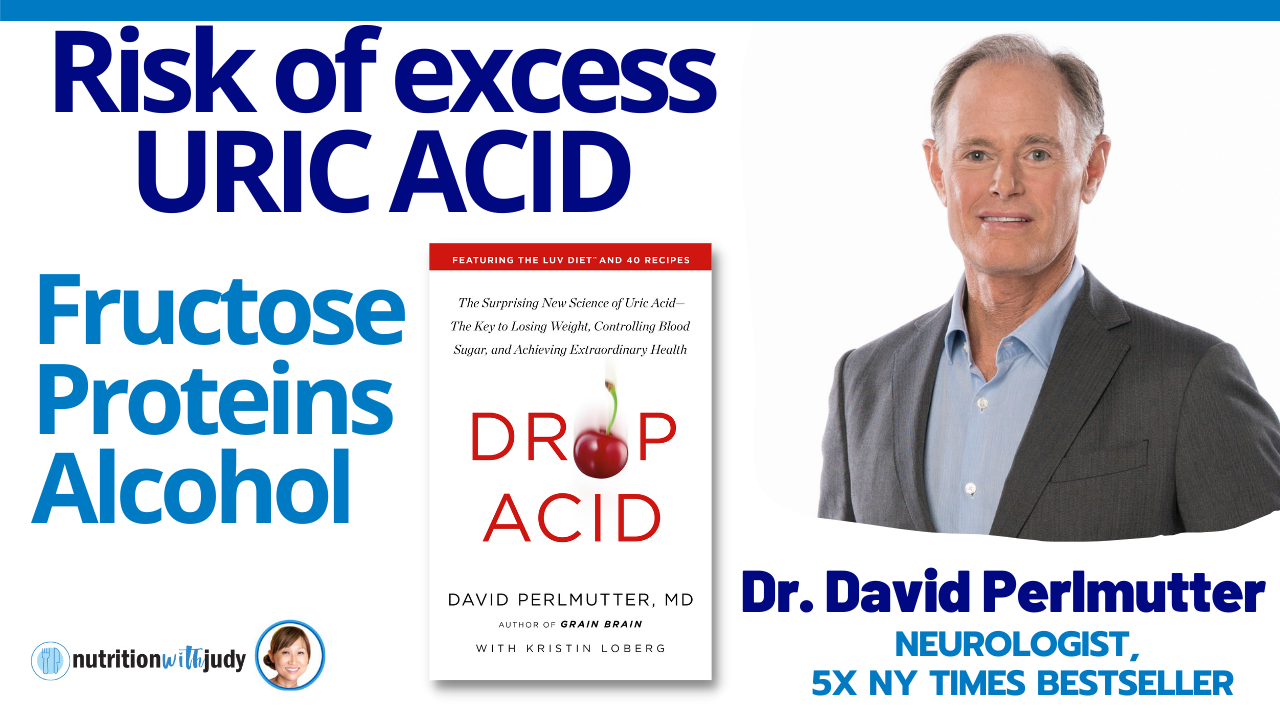 Dr. Perlmutter is a Board-Certified Neurologist and five-time New York Times bestselling author. He serves on the Board of Directors and is a Fellow of the American College of Nutrition.
We discuss the following:
The evolution of uric acid
Uric acid markers
Ideal uric acid markers
What is uric acid
Meat only (and organ meats) and uric acid risks
When to check uric acid levels
Fructose in fruit
Individualizing uric acid concerns on a meat-based diet
Salt and low carb diets
Self-questionnaire to see risks of excess uric acid
Foods to help lower blood pressure and lower uric acid levels
The relationship of fiber and uric acid
Gout sufferers — why and what to do
Fructose is in most sugars
Dangers of PPIs
Alzheimer's and the best diet to follow
Lifestyle tips
You can listen here and watch here.
NwJ INSIDER TIPS
Make sure to check out next week's NwJ interview with Dr. Richard Johnson and then the following discussion on the Cutting Against the Grain podcast.
Here's a resource for purines. My Carnivore Cure bundle has a guide on fructose. I'll be updating it for Carnivore Cure, 2nd edition (coming later this year).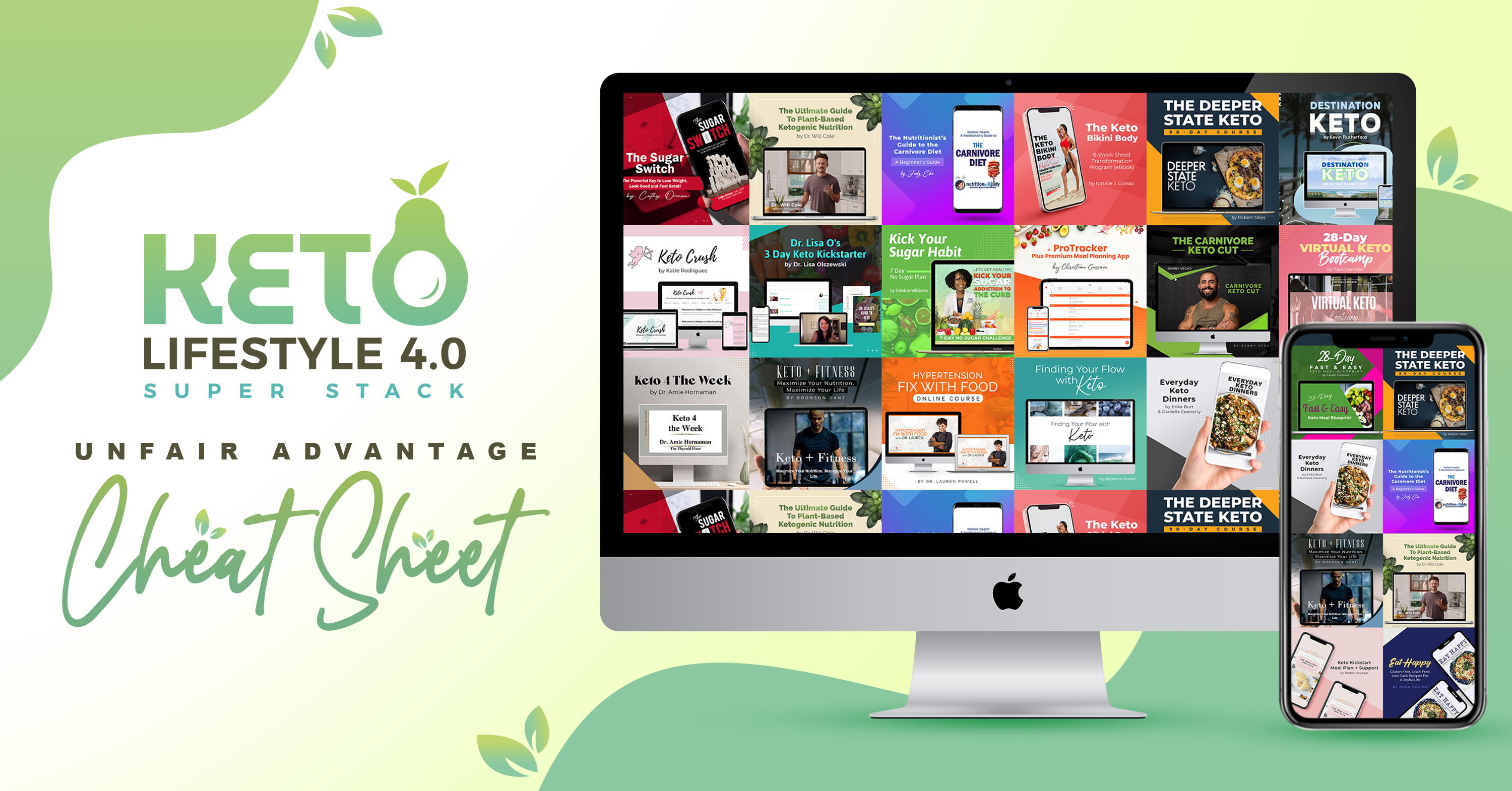 I've partnered with Infostack to share my Nutritionist's Guide to Carnivore. This bundle includes keto online courses, masterclasses, best-selling ebooks, useful apps, meal plans, recipes, and shopping lists.
This bundle can be a comprehensive resource as you follow a ketogenic lifestyle. The bundle can help support your carb cravings with creative keto recipes. There's also a vast range of content to help heal metabolic syndrome and insulin resistance. The bundle will also provide encouragement and wellness tips.
The bundle goes on sale Tuesday, February 8 for $49. Make sure to grab your bundle as this it's only available for one week, and prices go up on Thursday, February 10th.
You can sign up below to get notified of the sale!
Make sure to check out next week's NwJ interview with Dr. Richard Johnson and then the following discussion on the Cutting Against the Grain podcast.
Here's a resource for purines, a basic list of fruits with fructose, an analysis of honey, and a wonderful resource on the composition of American honey (1964). Use this info to help guide you with the amounts of fructose and purines you are comfortable with in your respective diets.
The American honey discussion shares the USDA's official definition of honey. I found it amusing as there's so much discussion about whether honey is a plant-based or animal-based food. It's plant-based but requires bees to facilitate the process. It's an example of a symbiotic relationship between the plant and animal kingdom.
The other interesting factoid in the discussion was how the difference in taste is caused by exposure to heat. Some bees transfer plant toxins in the nectar so not all honey is safe. One example is grayanotoxins and another harmful substance during honey processing is hydroxymethylfurfural (HMF). Most honey is likely safe for consumption with much of the regulatory standards but the excess fructose is still the concern.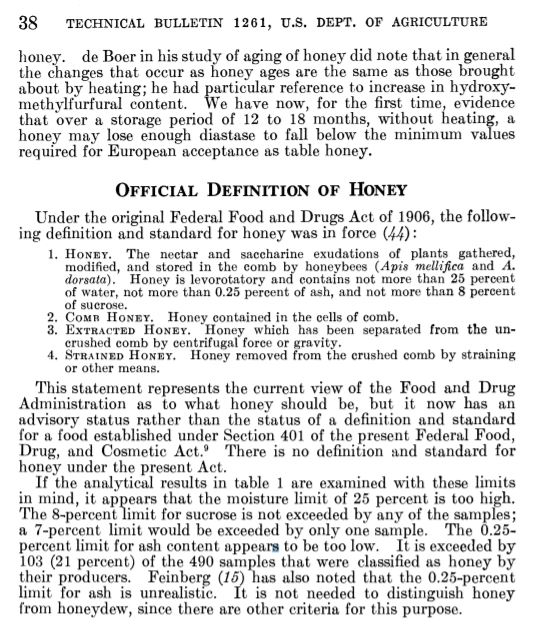 My Carnivore Cure e-book bundle has a guide on fructose (included in your Carnivore Cure book purchase). I'll be updating it for Carnivore Cure, 2nd edition (coming later this year).
The uric acid discussion may cause some disruption but I know for some, this will bring additional healing.
And for that, I'm all for it.
with ♥️ and hope for healing,

DISCLAIMER:
While I am a nutritional therapy practitioner and provide nutritional support, I am not providing medical advice. Any information provided in regards to nutritional therapy should not be considered medical advice or treatment. Always consult your primary care physician or medical team.
Join My Newsletter
Thanks for reading. Each week, I share updates on holistic health, evidence-based nutrition news, and meat-based resources. Thousands of people read the newsletter each week. Enter your email now and join our community.