Pain Modulation with Mindfulness Training
Sent by JUDY CHO | August 6, 2022
This week I started a 5 day fast and I've been documenting the journey to release a future YouTube vlog. I'll be done with the fast by the time you read this but day 3 was pretty difficult.
I was already in a light ketogenic state so the hunger was not really an issue. But on day 3, my energy was tanking. I tried to play around with electrolytes but I finally just drank over 32 ounces of water and that seemed to help.
The long-term risks with extended fasting usually come down to electrolytes and dehydration. It's definitely tricky as even with all my research, I was struggling.
I was inspired to do this fast after interviewing Megan Ramos from the Fasting Method. I plan to release my 5 day fasting experience once her video goes live. (Her video is expected to go live on September 19.) If you've never done an extended fast, make sure to work with your physician.
You don't want to just dive in to extended fasts as it can be medically dangerous. Just to give you context, most people that land in the hospital have very low levels of electrolytes and why so many of these people get on drips.
Several people asked why I'm fasting when I'm not overweight but I do one extended fast a year or every two years to support immune health and cell clean up. You can watch my attempt at a 7-day fast in February of 2021 here.
STUDY OF THE WEEK — Pain Modulation with Mindfulness Training
A study was done on mindfulness-based stress reduction (MBSR) training.
The group that used MBSR training showed significant decrease in Neurological Pain Structures (NPS).
"Mindfulness training showed associations with pain reduction that implicate differing neural pathways depending on extent and context of practice. Use of neural pain signatures in randomized trials offers promise for guiding the application of mindfulness interventions to pain treatment." (Source)
We have seen a lot of healing with clients that use adjunct mindfulness training to their nutritional protocols. Trainings just as Limbic System Retraining (DNRS, Gupta) or Somatic Training show remarkable improvements in the way our clients see the world and their surroundings.
It's good to become our own advocate in health but sometimes we can tip to an extreme and cause obsessive-compulsive thoughts that actually make us worse.
Here are some recommendations I share with my clients. These modalities help but I've seen the greatest benefits when my clients work with a DNRS or other mindfulness specialist.
You can see how our bodies overreact with too much information:
Watch this: https://youtu.be/gsERY5rV1W8
This is a perfect video of why I don't like dogmatic, overly perfect advocates in the wellness space. We're not considering the level of stress we take in by trying to eat the highest quality meats, dodging every bit of seed oils, and reducing all plastic and toxins from every single thing we're exposed to.
We need to live our lives and being overly fearful does not do our mind-body any good.
The truth is that sometimes our journey in healing is to learn to let go of control.
Mind-Body Books
Mind-Body Resources
Breathing exercises
Keep the mind busy
Force the body not to stress by forcing the brain to redirect (and not be focused on stressors)
Use your left hand when eating (assuming you are right hand dominant)
Cut with the non-dominant hand.
Put your clothes on with the non-dominant hand
Change the thinking pattern and don't focus on fear
Stop chatter (any negative thinking, redirect thoughts)
Get off social media!
Self-care:
Sauna
Acupuncture
Massage
Red light therapy
Sleep
Reducing EMF exposure
Gratitude journal
Watching sunrise (following circadian rhythm)
Trampoline and rebounder (lymph support)
SOCIAL MEDIA HIGHLIGHT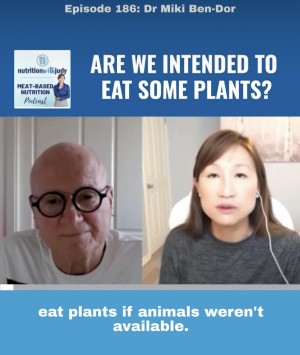 Are we meant to eat plants?
🍒 Berries and twigs have always been around. Maybe even mushrooms.
❓ So are we supposed to eat plants?
There are about 390,000+ plants in the world.
🔎 Yet we eat about 200 different plants.
❌ As I grew up in the city, I was taught at a young age never to eat mushrooms or wild berries off a random bush.
⚠️ There are more plants that are dangerous than there are safe plants for consumption.
❓ So why do we think plants are the most beneficial for health?
🥩 Some plants can have benefits (via hormesis) but most plants were consumed because of limited access to meats.
📚 Dr. Miki Ben-Dor is a paleoanthropologist that has researched and published his findings on diet during all of human evolution.
💡 And his findings suggest that plants are not optimal or ideal for optimal human health.
🍇 Even the fruits in the grocery store today are not what nature intended.
— 
📺 Full interview on YouTube with Dr. Miki Ben-Dor: https://youtu.be/c7_zBG7OAnk
🎙 Full interview on podcast: https://nutritionwithjudy.buzzsprout.com/1848795/10983934-why-humans-are-carnivores-the-anthropological-case-for-fatty-meat-dr-miki-ben-for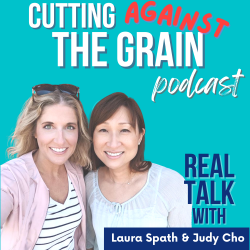 CATG PODCAST: Ep 71: Life Updates and Introducing Nutriment
In this week's Cutting Against the Grain episode, Laura and I share life updates and Judy talks about Nutriment, Carnivore Cure's Food Database.
Laura's updates
Making it one day at a time
Mental fortitude
Overcoming fears and food addiction
The right community and stepping stones
Worst case scenario
Laura's new boss
Kids' school updates
In-person connection
Big brother
Introducing Nutriment
Personalized elimination and Reintroduction resource
Internet dancing
Podcast Sponsor: Paleo Valley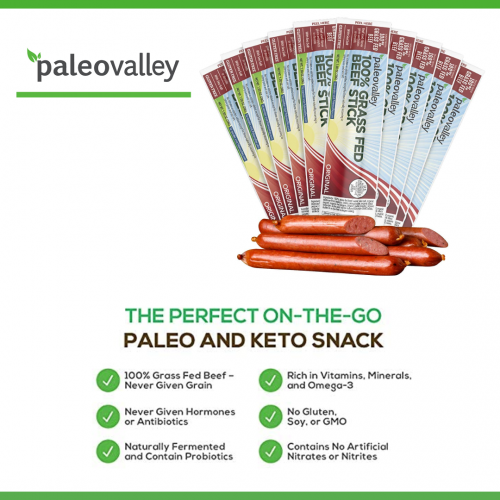 Paleo Valley's meat sticks have been a lifesaver during this hot summer. Since they are shelf-stable, I always have Paleo Valley meat sticks in my bag at all times.
It's also been perfect for my boys' lunchboxes.
I loved Paleo Valley's grass-finished beef sticks and pasture-raised turkey sticks because they support US Family farmers that focus on regenerative agriculture.
These meat sticks are from animals that have never been fed grains, corn, soy or GMOs. They've never been exposed to chemicals or pesticides, and have never been given antibiotics.
The spices in their sticks also are 100% organic.
Each stick is about $2 with our discount code and comes in a 10-pack bag. The sticks come in 5 different flavors.
Paleo Valley's meat sticks are a perfect snack and frankly, a great value without skimping on quality.
Go to this link: Paleo Valley + NwJ and use code NwJ to get 15% off your order!
NUTRITION WITH JUDY PODCAST: When Carnivores are Affected by Mold Illness — Jacie Gregory & Barbara Williams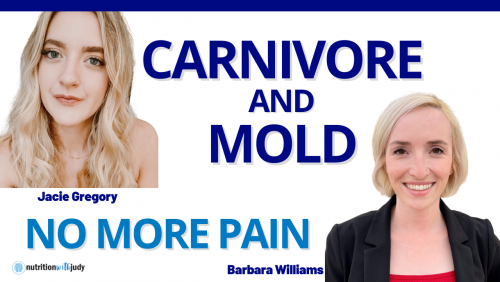 I'm excited to sit down with Jacie and Barbara. We talk about their journey to carnivore, Chronic Inflammatory Response Syndrome (CIRS) and much more. Make sure to listen to the full interview to learn more.
We discuss the following:
Jacie and Barbara's journey to carnivore
Does the diet make them unwell?
Benefits of carnivore
All about CIRS
Experience with the CIRS protocol
CIRS and carnivore
Thoughts on moldy homes
Symptoms of CIRS
CIRS recommendations
Jacie and Barbara's CIRS group
Where to find Jacie and Barbara
You can listen here or watch here.
NwJ INSIDER TIPS
I have been interviewing so many experts for the Nutrition with Judy podcast and I'm excited to release so many of them. And like I shared on my new YouTube intro video, not everyone is carnivore but everyone has some expert guidance to offer.
Remember, take what you need from the content and apply it to you if it helps. But don't worry if you don't agree with every single expert. That's completely expected, healthy and normal.
On Monday, I interview the founder of our children's school program. I hope it helps us take a moment to think about the way we learn and process information, and how we are educating our children. The program has over 230 schools worldwide and it's a testament to how parents want different options to teach our children than the traditional private or public school systems.
My KetoCon talk releases this coming week and my interview with Phil Escott releases the week after that!
Thank you for being part of this community. ♥️
Make sure to share this newsletter with your friends and loved ones as all freebies, inspirational hope, and evidence-based research is shared here first.
with ♥️ and hope for healing,

DISCLAIMER:
While I am a nutritional therapy practitioner and provide nutritional support, I am not providing medical advice. Any information provided in regards to nutritional therapy should not be considered medical advice or treatment. Always consult your primary care physician or medical team.
Join My Newsletter
Thanks for reading.  Each week, I share updates on holistic health, evidence-based nutrition news, and meat-based resources. Thousands of people read the newsletter each week. Enter your email now and join our community.