Meats with Vitamin C
Sent by JUDY CHO | July 3, 2021
Hope you're enjoying the beginning of summer! I've been spending more time with family (all our birthdays are in June and July) while studying for my board exam. My husband asked why I needed to get this credential. Frankly, if it makes me more legitimate with letters and titles to advocate for a meat-based diet, I'm all for it.
Hopefully, I'll be board certified in holistic nutrition by the end of this summer!
In case you missed last week's newsletter, Carnivore Cure's ebook and paperback are now on sale! The audiobook is most economical at https://shop.authors-direct.com/collections/nutrition-with-judy.
The audiobook comes with many of the colored graphics that were not read in the audiobook. It also includes all full citations and the bibliography.
NwJ INSIDER TIP: Mikhaila Peterson will be giving away several Carnivore Cure ebooks and audiobooks! Make sure to check out her Lion Diet page to learn more.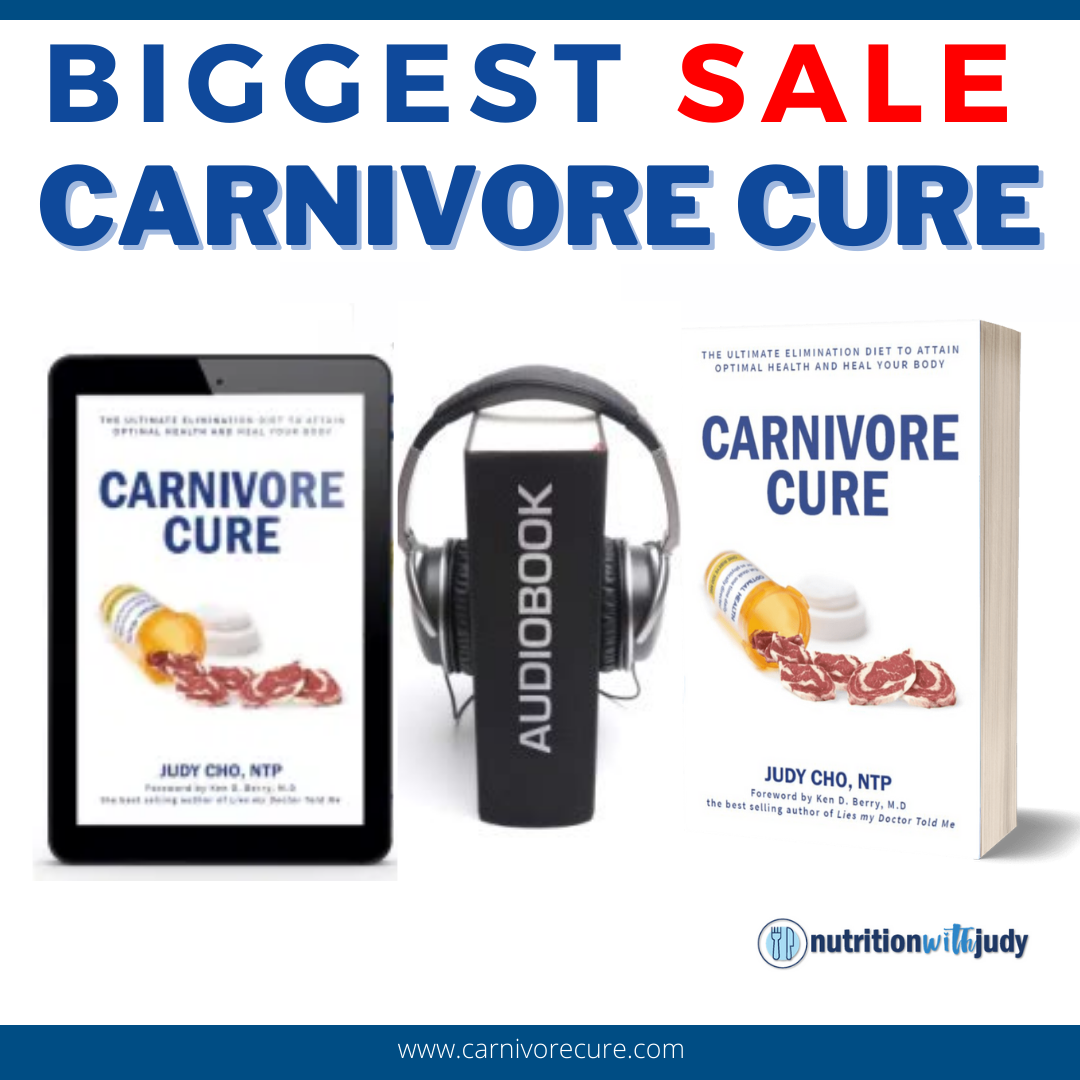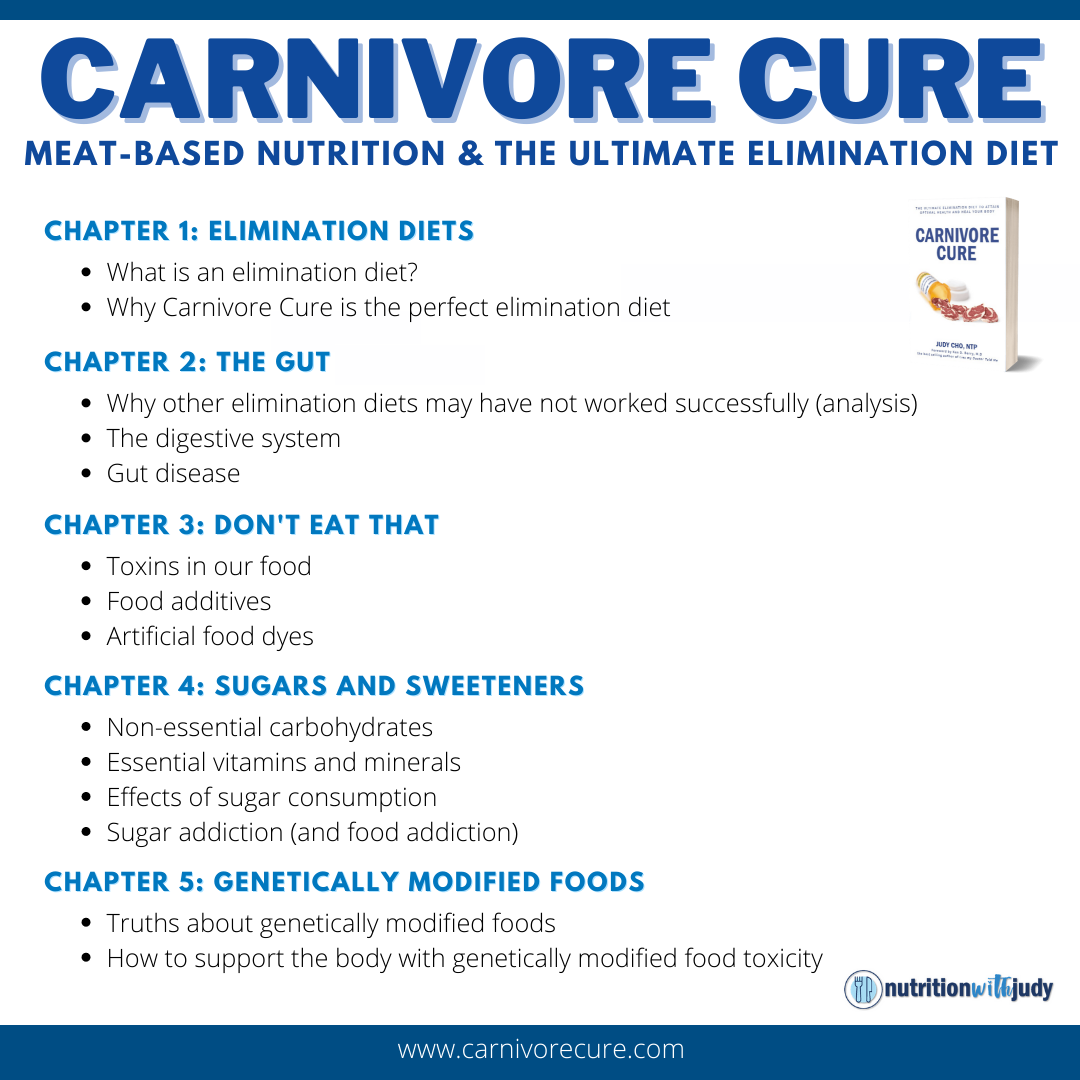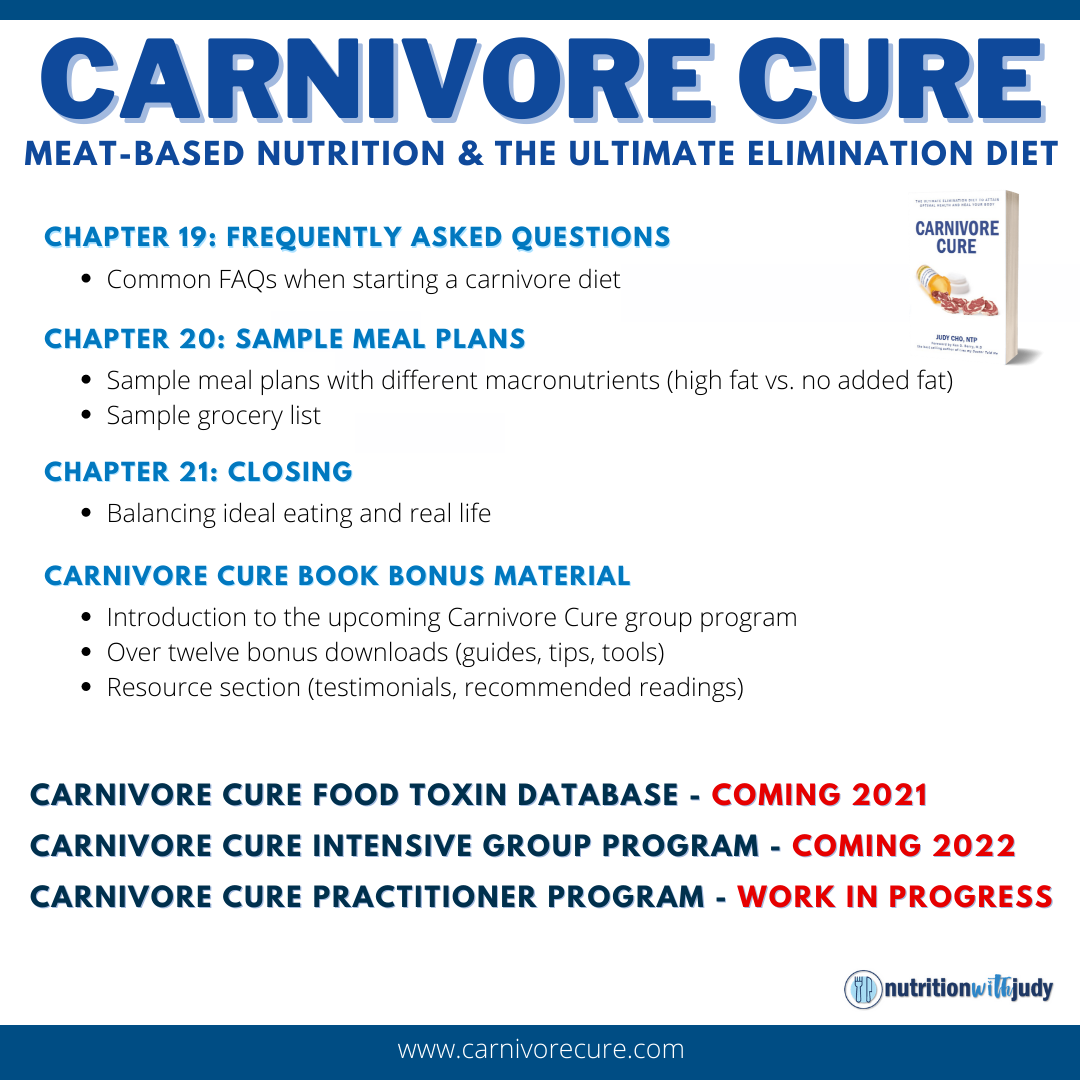 SOCIAL MEDIA HIGHLIGHT OF THE WEEK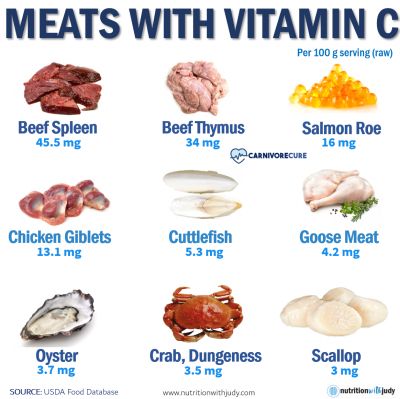 Vitamin C on a meat-based diet?
Carnivores have pretty much debunked the worries over scurvy.
What is scurvy?
Scurvy is a disease resulting from a lack of vitamin C. Early symptoms of deficiency include weakness, feeling tired, and sore arms and legs. Without treatment, decreased red blood cells, gum disease, changes to hair, and bleeding from the skin may occur.
Now if you do feel any of these symptoms, you can always eat some of the foods listed. These symptoms can also be due to mineral or electrolyte imbalances and even thyroid imbalances.
Of the hundreds of meat-based clients I've worked with, where carnivore isn't fully working, not one client was unwell because of a vitamin C deficiency.
Not enough fish for balanced fatty acids? Yes.

Too much liver? Yes

Not enough meat? Yes

Not enough fat? Yes
But never, ever too little vitamin C.
Pork liver (25.3 mg) and chicken liver (17.9 mg) do have measurable amounts of vitamin C while beef liver only has about 1.3 mg per 100 g serving. But always limit the amounts of liver in case of hypervitaminosis.
 Many of these foods consumed in 200 g servings (7 ounces) will cover your daily recommended value of vitamin C.
 Sure, oranges are rich in vitamin C. For 100 g, it has about 130 mg of vitamin C but it also has 25 grams of carbs. Maybe oranges are designed to have more vitamin C because it has to compete with glucose for uptake.
Sometimes I squeeze some fresh lemon in my morning water for digestion and for a little bit of vitamin C. Vitamin C can be a stimulus for better energy.
But I didn't use lemon for 3 years.
 In @CarnivoreCure, I make the case of whether you should supplement vitamin C or not. (Table 11.23). For some, it may be needed but many don't seem to need it.
By eating fish and seafood, you will get some of your vitamin C needs. Just another reason to include fish and seafood in your diet.
 The full Vitamin C list is in Chapter 11 of @CarnivoreCure.
These different meats should show you why eating a variety of meats on a carnivore diet is ideal. Maybe not required but ideal for nutrient-density.
CATG PODCAST: Cheat Meals on a Meat-Based Diet
This week's Cutting Against the Grain podcast shares Laura and my thoughts on cheat meals and cheat days on a meat-based carnivore diet.
is it possible? Who can do it? Who might not be able to?
Make sure to check out the podcast for our thoughts on this topic.

NwJ PODCAST: Carnivore Nuance with Dr. Cywes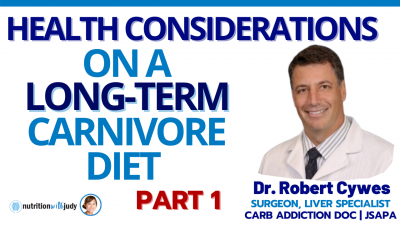 I had Dr. Cywes on my channel and podcast after hearing him talk about trends he's seen with longer-term carnivore patients. So we shared notes for over 3.5 hours. We shared two of them with you.
We talk lab markers, ideal (common trends for) thyroid markers, risks of excess nutrients, and testing for fat malabsorption. Dr. Cywes is a big fan of testing. I agree but I also try to balance testing (which drives up costs for my clients) and finding healing with some tried and true basic levers. (e.g., $30 ox bile supplement vs. $400 stool test).
I don't subscribe to the belief that functional and holistic wellness is only for the wealthy. I try to make it accessible because our communities frankly need it.
Dr. Cywes and I may not agree with everything and you may not have the same experience as what's discussed. But for some, this will be helpful information to get to root-cause healing.
Make sure to watch here or listen here if you've been carnivore for a while and finding that things aren't working perfectly on a meat-based diet.
I'll always share my findings and new evidence-based research so we can help our communities heal — even if it challenges status quo.
with ♥️ and hope for healing,

DISCLAIMER:
While I am a nutritional therapy practitioner and provide nutritional support, I am not providing medical advice. Any information provided in regards to nutritional therapy should not be considered medical advice or treatment. Always consult your primary care physician or medical team.