How to Start a Carnivore Diet (and make it stick)
Sent by JUDY CHO | January 3, 2021
Happy New Year! I hope you had a safe holiday. During my consulting days, I got accustomed to taking two weeks off at the end of the year. Around Christmas, I still plan to take one week off to sharpen the saw (Read 7 Habits of Highly Effective People!) and spend quality time with family. I hope you do that too when you see fit.
I always say to my (oftentimes Type-A) clients, that they need to take care of themselves first, in order to take care of anyone else.
I hope 2021 brings hope and healing to the world. I don't talk often about what's going on in the world but I will say that for most people if you change your diet and heal the body, you likely don't need any shots. In Carnivore Cure, I talk about some of the not-so-nice ingredients in some shots and while it's highly controversial, we must also understand that taking the shots doesn't make us non-carriers of any illness.
Regardless, by healing the gut and in turn, strengthening the immune system, you will have the best chance of fighting any virus, disease, and illness.
Food is medicine, if we choose the right foods.
We must get to healing root cause healing as this is the only way to be in the driver seat of our own health.
I hope that Carnivore Cure supports you in that journey.
World Carnivore Month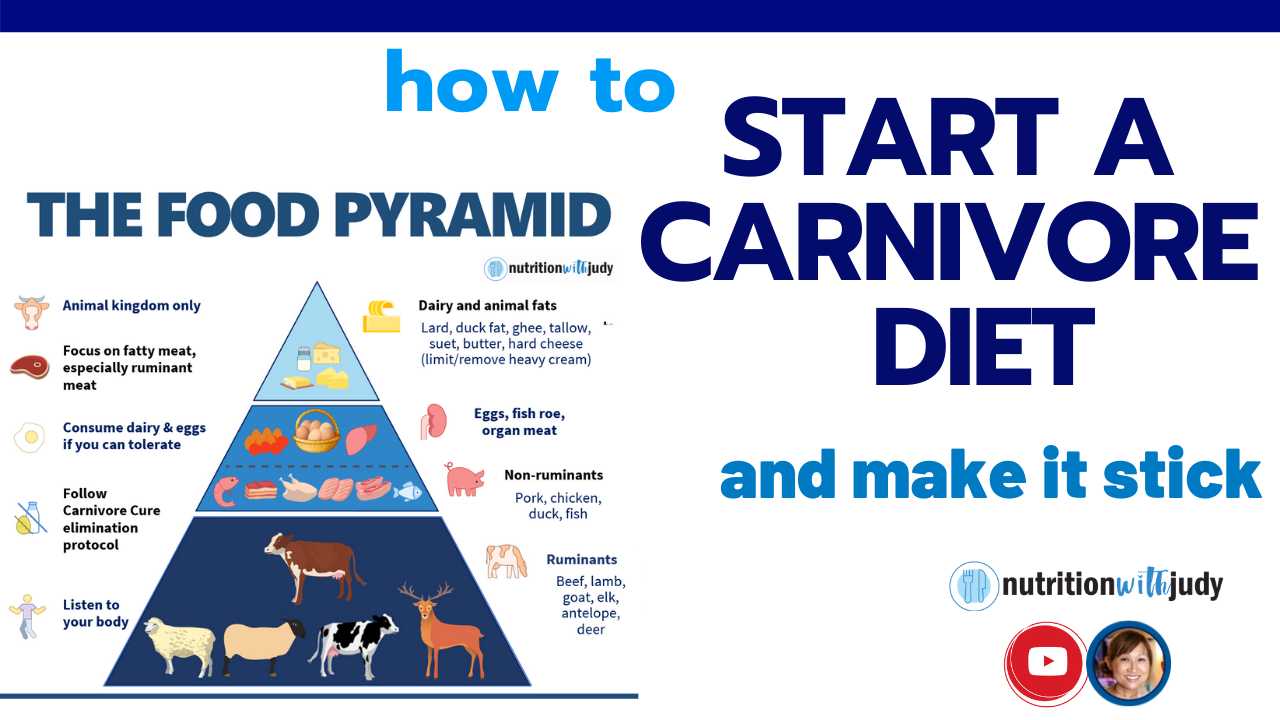 For January, I am sharing some podcast episodes and YouTube videos that support anyone wanting to start a carnivore diet.
Even if you have been doing it a while and not sure how to dial-in your macros, there's a video coming for how to ideally eat a high fat, moderate protein carnivore diet. If you don't like video, all these episodes will be on my podcast.
The first video releases today and it shares five tips to start a carnivore diet and how to successfully make it stick. In my videos, I'll be sharing graphics and explaining nuances and tips to help get you started.
You can also get my beginner's guide that walks you through details of the carnivore diet.
Carnivore Cure is on Sale and Weekly Giveaways!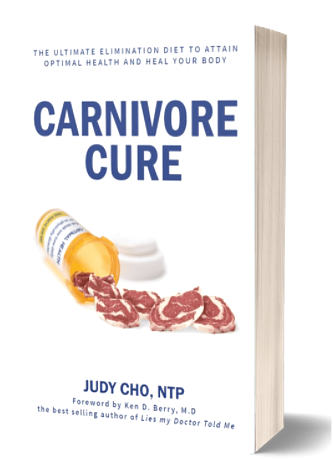 The paperback is being discounted for the month of January so get your copy today! Additionally, I am doing giveaways on Carnivore Cure's Instagram page, every Monday. Make sure to follow to win a free copy for you or a friend!

Carnivore Cure Audiobook, Group Program and Food Database
We are working to get the Carnivore Cure audiobook out within the next couple of months!
The food database will release soon after and the program will release last. I want to make sure that it's one of the best programs out there to support you back to optimal health. You've seen the amount of work I've put into #Carnivore75Hard. I can assure you Carnivore Cure's group program will be next level. Both will release later in 2021.
Stay tuned!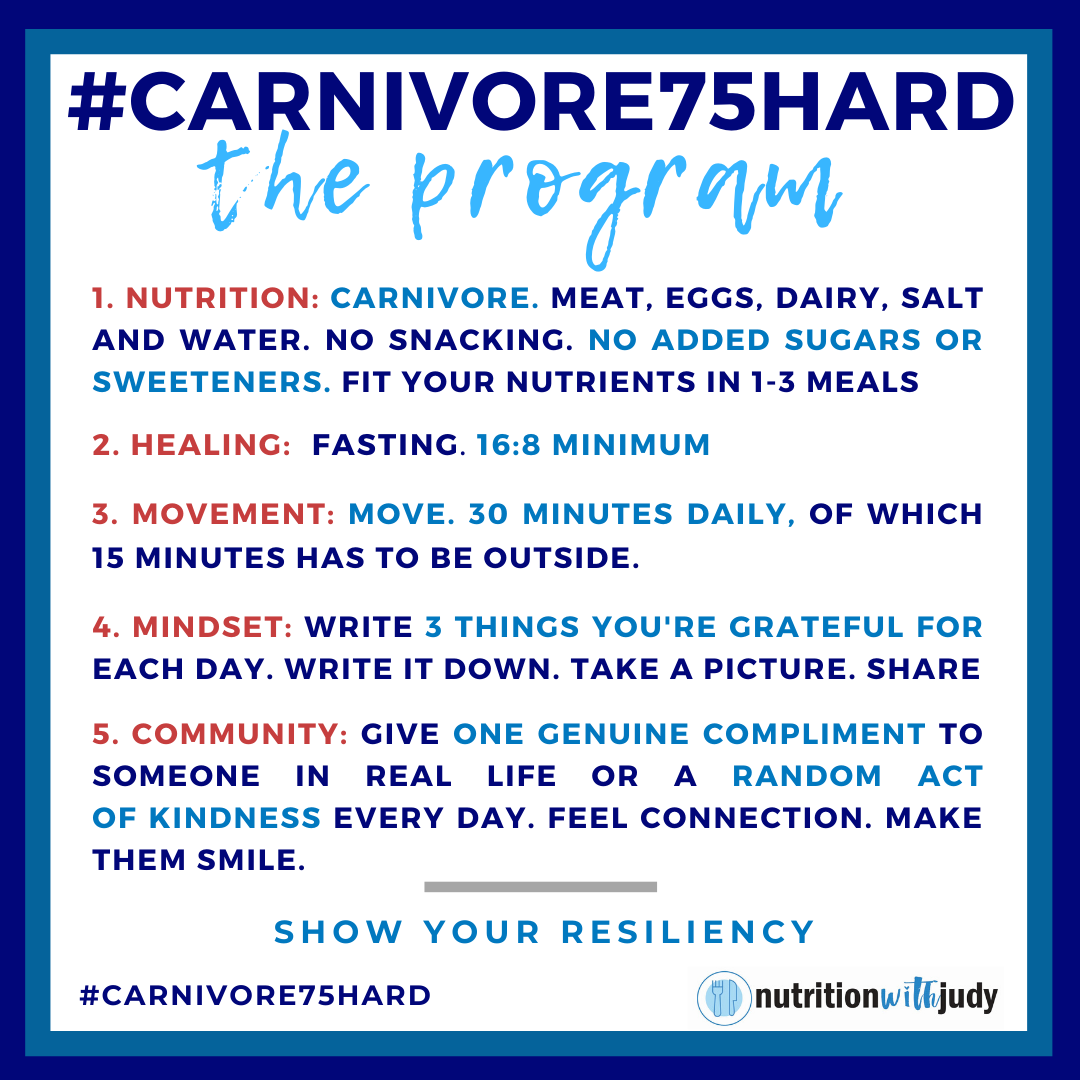 #Carnivore75Hard the Program
Remember, #Carnivore75Hard and its resources will always be free. Make sure to check it out if you want to have more accountability when trying a carnivore way of eating.

In case you missed it
Both parts of my interview with Angela Stanton released. She's a wealth of info and if you suffer from electrolyte imbalances and migraines, you definitely want to watch it.
Podcast link here.
Video link here.
My salt post (Part 1) can be found here.
Have a Happy New Year and I will talk to you guys next week!
with ♥️ and hope for healing,
DISCLAIMER:
While I am a nutritional therapy practitioner and provide nutritional support, I am not providing medical advice. Any information provided in regards to nutritional therapy should not be considered medical advice or treatment. Always consult your primary care physician or medical team.